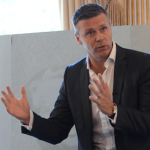 Steve Backley OBE
Steve is one of the all-time greats in his sport and the only British track and field competitor to win medals at three different Olympic Games. He broke the World Record three times and was crowned 'World Athlete of the Year' by the IAAF in 1990.
Steve is the co-creator of the Mind-Setting Programme and co-founder of BackleyBlack.
He is an ambassador for UK Athletics, commentator for the BBC, author of "The Champion in All of Us" and "The Winning Mind", and co-author of "The Little Book of Inspiration." He has worked with a huge range of executives and teams at organisations including EY, BP, Staples and Lloyds.
Engaging with Steve underlines Ground and Air's commitment to incorporating approaches and techniques from a range of fields which we feel will help get the best results.