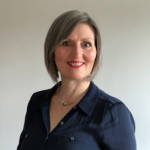 Sharon Milroy
Sharon's career has been focussed in learning and development within leadership and team effectiveness contexts through group work and 1:1 coaching. She gained a rich foundation of approaches and methodologies while working for John Lewis Partnership and Waitrose including NLP (Neuro Linguistic Programming), TA (Transactional Analysis) and MBTI.
Sharon has worked with leaders and teams across a range of sector, helping them to harness their success and break through limitations to enhance performance and results.
Sharon's qualifications include: Diploma in systemic team coaching; certified trainer of Neuro-Linguistic Programming (NLP); Myers-Briggs Level I and II, Transactional Analysis (101 Certificate) and training in personality through British Psychological Society Occupational Test Use Levels A and B; accredited Resilience Engine coach; Holst flowprofiler. Sharon is a member of the Association for Coaching and trained in hypnotherapy and BWRT (Brain Working Recursive Therapy.)
Guided by the outcomes that people define and evolve with the sponsor of any development work, Sharon uses perspectives, models and offers feedback on observations and patterns of behaviour. She facilitates people to practice, define actions to embed changes and achieve a return on their investment.