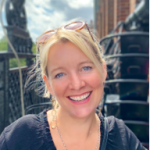 Polly Downes PCC
Polly is an experienced coach who achieves high impact results with her executive clients across the globe. Approachable, yet challenging, she enables her clients to progress and grow by creating a deeper understanding of their whole self. Polly's coaching leads to long lasting, positive change for her clients.
Background
Over 20 years in various roles in media, tech and education has allowed me a broad and in depth understanding of issues that my clients face.  Having first hand experience of the challenges of working in an ever changing, high paced environment combined with increasing work loads and the demands of life outside work, gives me a deep perspective from which to support & understand my clients. I've always been fascinated by the uniqueness of individuals and working in the corporate world has allowed me to see the benefits and challenges of human dynamics!
I love seeing my clients grow and understand themselves more deeply, the results are often staggering when they start to recognise their strengths and the unique contribution that they bring.
Style
I'm described as a challenging, yet warm, coach and this can result in transformational and life changing moments for my clients. Through working with me, clients find clarity in their thinking, purpose and vision, empowering them to become effective and authentic leaders.
My approach to coaching focuses on the whole person, both in their work role and outside of work, creating a deeper understanding of self and enabling progression and growth.
Through the pandemic I have successfully supported many clients to find the best way to manage stress and become more resilient as well as creating ways to cope with change.
My skills in relationship coaching add depth to my executive engagements, allowing clients a deeper understanding of both their working & personal relationships such as how to create presence and gravitas, build confidence and communicate effectively.
My passion for supporting clients to make positive changes means I regularly attend courses to deepen my learning. This enables me to coach around most issues that my clients face. From experiencing grief, to becoming a new parent, I can support my clients to understand how life changes impact them both professionally and personally.
I work creatively with clients to adapt my coaching approach to suit their individual needs. My coaching techniques can vary from traditional face to face meetings to walking sessions, enabling the deepest possible thinking and clarity for my clients.
Qualifications
Postgraduate Certificate in Personal & Business Coaching;
BA (hons) Psychology & Business management
EQ-I 2.0 & 360 Emotional Intelligence Assessment qualified practitioner,
Team Coaching & Facilitation certification, Barefoot Coaching
Trainer – Coaching skills for families and communities.
Outdoor Intelligence for online coaching practitioner
Breath work Practitioner, The Shala Breathing School.
'Coach of the Month' in the March 2021 edition of Psychologies Magazine.
As well as coaching, I am a tutor on the Barefoot Coaching Course PGCert in Business & Personal Coaching.
I am currently studying towards Gottman Couples Therapy Clinical Method 1 & 2
Expertise
Leadership Development Coaching 1:1:
As an experienced leadership coach, I support leaders on a 1:1 basis to develop in a variety of areas. I support both experienced and established leaders and newly appointed leaders.
Subjects that regularly come up include:
Confidence
Executive presence & gravitas
Communicating effectively & having difficult conversations
Delegation
Strategic thinking
Self awareness & emotional intelligence
Time management
Boundaries & self care
Work life balance
Managing stress and overwhelm
Recent Engagement: Coaching 30 senior leaders on a 1:1 basis within a leading social media organisation.
Executive and High Performance Coaching:
I work with executives to get the best out of themselves, to find their own motivation and drive to move forward and become the best version of themselves. We find where they may be stuck and create a way to move forward. We focus on strengths and energy and how best to combine them in both work and personal life.
I like to focus on my client's unique strengths and how this can bring them confidence.
Recent engagements:
Leading global social media organisation
Award winning film producer
Parental Leave Returners Coaching:
I have created both group and 1:1 coaching programmes for organisations to support their people when they take or return from parental leave. This group programme has had huge impact on staff retention, allowing parents to feel valued. It also creates a culture of inclusivity where parents are able to bring their 'whole self' to work.
Recent engagements:
International Television Broadcaster
Advertising Agency
UK leading theatre
Coaching for Grief:
I support businesses through the difficult time when someone in the organisation dies. This is a complex situation of emotion and knowing the right protocol and I am able to coach the leaders to find the right path for the organisation, as well as support individuals through their feelings of grief.
Grief coaching is useful at any time that people feel loss, from the loss of freedom and familiarity of life that we all experienced through the pandemic to endings at work such as redundancy, retirement or leaving through choice. Grief coaching also supports the endings of relationships such as divorce or even a colleague leaving the business.
Recent engagement: I supported an investment bank through the sudden loss of one of their senior leaders.
Sector Expertise
Media
Technology
Social media
Advertising
Finance
Arts
Broadcasting
Charities
Film
Clients Include
LinkedIn
ITN
Zone Digital
Vogue
British Film Institute
National Theatre
Big Issue (pro bono)
Cardboard Citizens (pro bono)
Independent Film Production
"We have engaged Polly to work with a number of our Senior Leaders across the business as an executive coach. Polly has a great ability to build a strong rapport and engage in impactful coaching relationships, supporting leadership development and growth, helping leaders to achieve their full potential and driving long lasting change. I strongly recommend her to any organisation".
"Polly is warm, energetic and engaging. She facilitated a hugely successful maternity coaching program which enabled Zone to maintain its 100% retention rate for returners from maternity leave. The feedback from individuals who attended her sessions was always positive and I know she has made a lasting impact on those who she has worked with."
"Polly has been working with several senior managers at the National Theatre over the past 3 years. She is a highly-skilled coach who we always get positive feedback about, and I would not hesitate to recommend her to others. Polly is positive, empathetic and thoughtful, and uses a range of different techniques and exercises dependent on the issue and individual to steer people towards solutions. She is very supportive and listens, but also challenges clients to ensure they keep moving forward. It's been brilliant working with Polly over the last couple of years, and we will continue to do so!"
"I am delighted to be able to endorse Polly and her excellent work. She is an accomplished and highly effective business coach who appreciates the delicacies and subtleties required in securing real and measurable improvement in the lives of her clients. I have no hesitation in recommending her no matter how big your challenge or complicated your situation. Polly makes change happen for good."