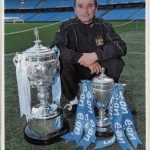 Pete Lowe
As a leadership consultant and high performance coach, Pete draws on his experience of the high performance environment of Premier League football to help businesses to create and maintain a culture of success.
Pete's track record includes more than 25 years in the professional game and 13 years in a senior role at Manchester City FC, where he was responsible for helping to develop an unrivalled talent pipeline that created 74 professional players debuting in competitive fixtures and 39 of which debuted for the club in the Premier League. Transfer of players approaching £70m was also testimony to the clubs success in player development.
The academy's track record was testament to this success, with an FA Youth Cup win and Runners up, 13 European tournament wins, 6 Divisional Premier League Championships and an Under 15 World Cup. Understanding how people develop best and how to help them realise their potential was instrumental to his career at MCFC. He claims that knowing and understanding your people in the work culture lies at the heart of extraordinary team performance. This along with understanding the obstacles to success and the processes that prevent such obstacles becoming dominant factors in a cultural development.
Pete is adamant that there are no shortcuts to maintaining success. His powerful insights in a 'say it as it is' manner captivate audiences and work environments. He proves that tales from the 'touchline' translate to other arenas, with compelling results. He maintains that excellence is a nebulous destination and continuous improvement is the Holy Grail of sustained high performance. A man who speaks from the heart using real life insights, Pete believes that culture must support strategy and leaders create leaders, not followers.
Pete has worked with partner clients in the UK, Thailand, USA, Switzerland, Ireland, Hungary, Holland, Finland, Germany and South Africa.
Services : One-to-one mentoring and personal coaching, bespoke training models for staff development, conference speaking and webinars
Published author: The Language of Winning, 13 Minutes to Make a Difference, Creator of Online training programme, The Language of Winning