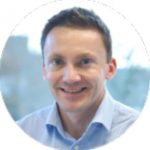 Paul Emslie
Purpose driven & people focused professional with over 20 years' leadership experience up to executive board level across multiple national retail businesses. Responsibilities included commercial, marketing, and digital; holding the P&L for these areas, and creating a supportive, collaborative and progressive environment for teams of over 300 colleagues.
A Henley Business School accredited coach with over two years private practice combined with 10 years as an internally trained coach and mentor, supporting the development of senior leaders and emerging talent.
Background
I have 25 years' experience working across 4 national retail brands, 7 of which were at executive board level. This includes working within Plc and PE backed businesses, through growth and declining market conditions, as well as developing and implementing business and people transformation strategies.
Building, developing, and supporting great teams as well as spotting, nurturing, and creating the conditions for talent to flourish were some of the most engaging and rewarding aspects of my roles.
Having realised that this was my main motivator and purpose, I now focus my time and energy into helping people to unlock their potential and transform their performance.
I am also Founder of The Growing Coaches: a web-based platform which matches and connects clients with coaches undergoing postgraduate level coach training, with the aim of making coaching more accessible to more people by overcoming the cost barrier as well as supporting the development of 'growing coaches'.
Style
Creating connections & inspiring possibilities through an authentically engaging, curious and considered approach. Drawing on evidence-based approaches from the world of coaching psychology and adopting a variety of behavioural and cognitive behavioural techniques to coaching and people development.
Qualifications
PG Dip. Executive Coaching & Behavioural Change - Henley Business School
Mini Retail MBA - Manchester Business School
PG Dip. Information Analysis - Robert Gordon University
MA Economics - University of Aberdeen
Expertise
Leadership Development:
Leadership is about 'being' rather than 'doing'. It is a mindset and about fostering a way of thinking & believing which drives the right behaviours in the leader and in those that they lead.
Coaching:
1-1 Executive Coaching: co-creating the right conditions for positive change and blending a combination of support, challenge, and guided facilitation to help clients achieve their desired outcomes.
Executive, Board and Team Facilitation Development:
Experienced board and team facilitator. Inclusive, empowering & coaching style of team development.
Organisational Design & Development:
Heavily involved in organisational design, development, and implementation across several operating models.
Executive and High Performance Coaching:
Peer coaching at Exec level
Executive and SLT level 1-1 coaching
Improving performance by creating awareness, strengthening self-efficacy, and increasing responsibility to implement identified changes.
Career Coaching:
As an internal coach working with high potential senior leaders and emerging talent for 10 years, focus areas included career development and mapping as well as colleague specific desired outcomes.
Sector Expertise
Vast career experience within Retail plus some early career experience in Oil & Gas.
Clients tend to be executive board or part of senior leadership team.
Have worked across commercial, product management, supply chain, format & proposition, digital, e-commerce & multi-channel, restaurants, partnerships and strategy.
Clients Include
Group CEO – European AV Business
EVP – International Sports Media
Sales & Marketing Director – UK service business
Operations Director – UK retailer
Founder & MD – Market research & customer insight consultancy
Trading Director – International retailer
"I loved working with Paul on my professional development. He helped me see over a wall into a simpler world where the important tasks are clear, prioritised and get done."