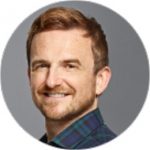 Julian Linley
For the past 25 years Julian has worked at the cutting edge of media, leading generation-defining brands and creating award-winning content. The former Editor-in-Chief at Heat and Digital Spy, Julian lectures as part of City, the University of London's journalism course. He has worked on every major platform, managed teams large and small, and trained-up the next generation of talent across a range of educational and talent initiatives. Julian has invented awards initiatives, presented at Cannes Lions, the global advertising festival, and hosted ITV2 reality shows.
Background
My background is as a leader in the media industry, overseeing brands with multi-million-pound turnovers. The secret to achieving these ambitious targets was to surround myself with the right talent – training, coaching, supporting and empowering teams to deliver consistently high levels of creativity and productivity.
As a mentor and coach, I bring huge amounts of energy, passion, respect, care, integrity, and hard work. I'm driven by making a tangible difference, even bringing new ways of thinking to well-established, heritage businesses.
In addition to my media work, I am also a lecturer at City University where I invented and teach a module called The Business of Media as part of a prestigious MA Journalism course. In student evaluations I consistently score as one of the University's highest-ranking tutors.
Style
Energy, passion, respect, care, integrity – and humour
Qualifications
I am a qualified executive and personal coach, fully accredited by the International Coaching Federation
Expertise
Career Transition Coaching:
I provide clients with a space to pause, reflect on success and explore what lies ahead
Business & Personal Coaching:
I am a business and personal coach, specialising in working with creative individuals and teams, to provide structure and enable creative minds to clarify, sift, articulate ideas, and turn them into actions
Leading Workshops/Incubators, Devising and Executing Learning Programs, Facilitating Discussion:
I help organisations step back from day-to-day operations and take a fresh and unapologetic look at their business through the eyes of up-and-coming talent
Talent Development, Mentoring, Training:
Highly experienced in leading individuals and small teams to develop, coach, nurture, train, and mentor talent
Organisational Design & Development:
I work with businesses during times of change to identify and design new restructures, create clarity around new business needs, implement new processes, reduce friction, and maintain/increase productivity
Sector Expertise
Media Production
Journalism
Marketing
TV
Technology
Social Media
Radio/Podcasting
Finance
Charity
Start Ups / Entrepreneurs
Clients Include
Hearst
Bauer
ITP Media
City University
Blood Cancer UK
Cannes Lions Festivals
NBC Universal
"I have been fortunate to work with Julian on some career coaching. The work we did together allowed me to clearly articulate my current situation and future goals in a way I hadn't been able to before. The coaching has led to a new and fresh mindset that will hopefully set my career on a new and exciting trajectory, and I'm grateful to Julian for helping me find this new path. Highly recommended."
"I've worked with Julian in his capacity as a host and moderator many times. He's cool, calm and collected, has a great sense of humour and really knows how to read a room. He's naturally inquisitive, is brilliant at listening and above all knows how to tell a story. I've learnt a lot through watching Julian over the years"
"Julian works with passion and integrity – he's also great fun to be around and his positive attitude had a big impact on the culture of Hearst."
"Julian's deep, knowledge about media, super fun personality and dogged belief in me lead to some really creative and lateral thinking that I'd have otherwise been unable to access. He taught me to be more ambitious in my thinking, to trust my ideas and have to confidence to say them out loud."
"Julian is a great mentor who has a natural ability for encouraging and inspiring thoughtful and motivational thinking. He is a positive influential and always happy to listen to your thoughts. Julian has an approachable manner and creates an inclusive environment to work in."
"Julian set creative challenges for us all at Bauer Media that many of us relished and was an enormously influential and nurturing presence. For me personally, Julian was a mentor; someone from whom I would often seek advice. He was supportive, skillful and highly effective."
"Julian's input at City University has been invaluable. I can't recommend him highly enough."