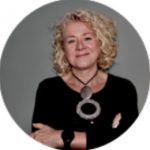 Janie van Hool
Janie is an author, speaker, facilitator and teacher in the art of brilliant communication. She supports business leaders to connect with and inspire their people.
Background
After 12 years working as a classical actor, Janie took an MA in Voice and began teaching the art of presence and impact to leaders in organisations as wide-ranging as mining in Australia, investment banking in New York, consulting in Dubai and retail, telecoms, financial services and pharmaceuticals in the UK and Europe.
Style
Janie's sessions are playful, experiential, energizing and fun, whilst providing challenging and constructive feedback. She focuses on practical ideas, tools and encouragement to create confidence and enable impactful change.
Qualifications
RADA Diploma
MA Voice
MSc Performance Psychology
Expertise
Leadership Development:
Design and development of high potential leadership programmes for graduate groups
Design and development of leadership development programmes for senior leader populations across an individual organisation
20 years of experience teaching on the Ashridge Hult flagship senior executive leadership programme
Extensive experience in organisations developing and delivering programmes that enable leaders to inspire through storytelling
Design, development and delivery of specific interventions where there is a skills gap and need. E.g., Empathy, connected conversations, presentation, influencing, listening
Executive and High-Performance Coaching:
20+ years of working with senior leaders and C-suite executives on communication skills. Areas include:
Specific communication situations e.g., conferences, media interviews, strategy message design and delivery, high-profile public speeches
C-suite level interview preparation
Influencing at board level
Sector Expertise
Retail
FMCG
Financial services
Business Schools
Banking
Government
Food manufacturing and processing
Telecomms
Clients Include
Dyson
Morgan Sindall
McDonalds UK & I
Sainsbury's
Ashridge Hult Business School
House of Lords
Royal London
Charlotte Tilbury
"You are great at what you do – dynamic and fascinating and intelligent and informative and a whole lot of fun."
"I'm sure Janie has magic powers…brilliant with both individuals and groups. Leaders love working with her, trust her implicitly and feel energized and empowered after every interaction."