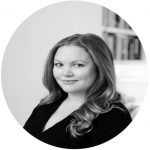 Amy Dempsey
With 18 years of experience in Financial Services, Amy is a trusted adviser to industry leaders on questions of culture, leadership and people strategy.  She combines first-hand experience and sector expertise with a natural talent for understanding people and how to develop, challenge and motivate individuals and teams.
Background
Amy has worked in the finance industry for 18 years and has a wealth of knowledge and experience to offer to clients.  She spent 12 years at Schroders and was the Head of Business Management for its quantitative equities business.  She worked alongside the team's founder and lead fund manager to oversee a $40 billion book of assets, a global institutional client base and a team of 30 investment professionals based in London, Sydney and New York.  Her responsibilities included people management, talent acquisition and development, client relations, sales and marketing as well as oversight of the team's operations and trading function.
In 2017 Amy launched her own consultancy practice, advising senior professionals in the finance industry on culture and people strategy.  She works closely with industry leaders to develop high-performance teams, using creative strategies to enhance teamwork, communication and productivity.
Amy enjoys helping individuals to develop their leadership style and capabilities in order to address challenges, navigate change and increase their influence and impact.  Her clients now range from large, global institutions to smaller boutiques and start-ups.  She has also worked with not-for-profit organisations and the Civil Service.
Style
Given her own experience in the industry, Amy relates well to individuals at all stages of their career and is able to provide practical, results-focused advice and support.  Her approach is warm and collaborative, focused on building trust and a forensic understanding of individuals, their needs – and those of their managers and colleagues.  While always empathetic, she is highly skilled in getting people to confront difficult subjects and in challenging unproductive or self-limiting habits and behaviours.
Qualifications
BA (Hons) English Language & Literature – Lady Margaret Hall, Oxford University
Master Practitioner – VoicePrint
Accredited practitioner – Myers Briggs Type Indicator (MBTI)
Accredited practitioner – EIP (Emotional Intelligence Profiler)
Expertise
Leadership Development
Coaching
Executive, Board and Team Facilitation Development
Executive and Peak Performance Coaching
Sector Expertise
Asset management
Private equity
Venture capital
Government
Social enterprise & policy advisory
Media
Not-for-profit
Clients Include
FTSE 100 Asset Management Firm
Market-Leading Global Equities Boutique
Growth Equity Boutique
Ethical Investment & Policy Advisory Firm
Sustainable Investment Firm
Department for Work & Pensions