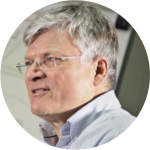 Alan Robertson
Alan Roberston is the creator of VoicePrint, the diagnostic and development tool which is designed to improve individual, team and organisational performance by bringing unconscious patterns of talk and behaviour into conscious awareness.
Alan's corporate career began in the aerospace and industrial relations sectors when both were going through turbulence and change. This took him into leadership and organisational development, and expanded his interests into business psychology and consultancy.
In parallel with consultancy, facilitation and executive coaching, Alan was a Senior Visiting Teaching Fellow at Cranfield University the Cass Business School, where he taught personal and inter-personal skills helping individuals to re-orientate and progress their careers. Alan is a Fellow of the CIPD, a member of the British Psychological Society and a Fellow of the Royal Society of Arts.
Ground and Air is delighted to have Alan's involvement.